Brief Report on the Situation of Human Rights in Libya (January-June 2022)

During the first half of this year, Libya remained a safe arena for human rights violators, in light of the widespread phenomenon of impunity and the absence of accountability, as well as the continuation of the political division that was entrenched in the presence of two competing governments. After the rounds of dialogue between the political parties failed to reach a concrete agreement that would allow elections to be held soon, the streets of Libya witnessed on the first of July a massive wave of protests, in the east and the west, calling for the overthrow of all political institutions and the organization of elections.
The crackdown that began last year against civil society and human rights defenders has also escalated. This sparked panic among civil society and forced many organizations and activists to reduce their activities for fear of being subjected to arbitrary arrest and other reprisals. As long as Libya does not enjoy press freedom, journalists and activists continue to be subjected to enforced disappearance. The tragedy of migrants, refugees and asylum seekers continues. They are subjected to arbitrary detention, torture, murder, sexual violence and kidnapping for ransom, and internally displaced people continue to suffer from displacement and live in harsh conditions.
At a time when the Independent Fact-Finding Mission in Libya was facing various challenges in order to renew its mandate, especially from the Libyan authorities, the Presidential Council announced its strategic vision for the National Reconciliation Project.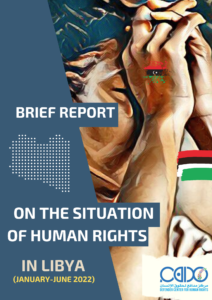 https://defendercenter.org/wp-content/uploads/2022/07/الانتخابات-ومستقبل-السلام-والاستقرار-في-ليبيا-3.png
2000
1414
Defender Center
https://defendercenter.org/wp-content/uploads/2018/06/cropped-cropped-cropped-logofn-1.png
Defender Center
2022-07-13 16:17:07
2022-07-16 19:01:06
Brief Report on the Situation of Human Rights in Libya (January-June 2022)