CHRDA Recruit Advocacy and Research Associate in TUNISIA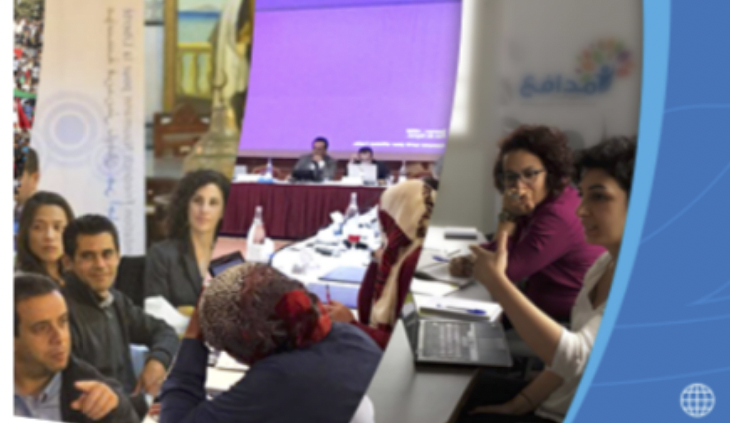 CHRDA Advocacy and Research Associate

Department: 

CHRDA Advocacy and Research Associate

Location:

Tunisia

STARTING DATE

As soon as possible




Organisation background

Center for Human Right Defenders Association (CHRDA) Is an independent regional non-governmental organisation. CHRDA aims at promoting rights of Human rights Defenders and vulnerable population, analysing the difficulties facing the application of International Human Rights Law and disseminating Human Rights Culture in the Arab Region as well as engaging in a dialogue between cultures. A crucial part of CHRDA' mandate is to help shape the understanding of the most pressing human rights defenders concerns within the region and then to coordinate and mobilise the key players and NGOs from across the Arab world to work together towards solutions.

Furthermore, CHRDA is an HRD's network; working on supporting, empowering and protecting HRDs. CHRDA emerged from the need to find a space for Jurists outside their country, especially with the outbreak of armed conflict targeting defenders and activists; attacks and abuses sometimes reached the limit of assassinations.

 

Job context 

Providing day-to-day support to CHRDA Advocacy and Research work; such as preparing for and taking minutes at meetings, scheduling, making travel arrangements, and responding to requests for information; in addition to carrying out the logistics duties of roundtables, seminars, webinars, and workshops. 

Assist in translating, proofreading, formatting, and distributing documents such as news releases, reports, tables, charts, briefing papers, op-eds, publications, and web content;

Conduct background research. This may involve technical, legal, historical, etc., research, relying mainly on online sources;

Provide day-to-day research support to the Advocacy and Research Department, as appropriate, depending on the needs of the Department or current events;

Build strategic partnerships with relevant Human Rights networks, INGO, and organizations/departments, and liaise with existing, new, and potential partner organizations and other stakeholders.

In coordination with the Communication and Media Officer schedule meetings with parties, e.g. Decision makers, and lobbies. 

Maintaining advocacy contact databases at the national and international levels.

Contributing to the development of CHRDA's advocacy strategic plan.

Provide support for mass mailings when the Department is engaged in campaigns or advocacy efforts;

Assisting with the recruitment and coordination of interns;

Carry out other duties as may be required.

Write, edit and review as needed various communications and other departmental writing and editing needs.

Respond to various external requests for information about the organization, in particular advocacy-related inquiries.

.

Hierarchical Link

Under the direct supervision of  Senior Researcher.

reporting

Provides reports to

 Senior Researcher / Senior Reporting.
SKILLS AND EXPERIENCE
A successful applicant will ideally be able to demonstrate:
A bachelor's degree or equivalent working experience in human rights, law, international relations, social science, or a related field is required.

A minimum of two years of relevant work experience is preferred.

Strong commitment to the principles and practice of human rights.

Excellent organisational skills and attention to detail.

Have exceptional verbal, written, and presentation skills.

Be able to work on tight deadlines.

Excellent interpersonal skills, ability to work independently and in a confident manner, and to work within a multicultural team.

Competent in using Microsoft Office applications such as Word, Excel and PowerPoint.

Fluency in English and Arabic is required, working knowledge of French an asset.
EQUALITY STATEMENT
We are looking for candidates that are passionate about human rights, who are determined to make an impact on people's lives around the world. Joining CHRDA means being a part of a dedicated and diverse team committed to the protection and preservation of international human rights.
CONTRACT AND SALARY
1-year contract subjected to a 3-month probation period. Renewal subject to funding.
How to Apply
If this sounds like the position you have been looking for, please submit a motivation letter (not more than one page) that addresses the specific skills and experience that CHRDA requires for CRV Project Coordinator and CV; 
to recruitment@defendercenter.org with "CHRDA Advocacy and Research Associate" in the subject of your email.
Note that only short-listed candidates will be contacted.

Applications will be reviewed on a rolling basis, so apply as soon as you received the job announcement.

The job announcement will be closed on 15 Dec. 2022 applications after this date will not be reviewed.
We look forward to learning more about you.
https://defendercenter.org/wp-content/uploads/2022/10/Capture-décran-2022-11-02-à-13.14.32.png
548
730
Defender Center
https://defendercenter.org/wp-content/uploads/2018/06/cropped-cropped-cropped-logofn-1.png
Defender Center
2022-10-26 14:11:00
2022-11-30 12:16:47
CHRDA Recruit Advocacy and Research Associate in TUNISIA