Report : Libya's Universal Periodic Review Human Rights Situation in Libya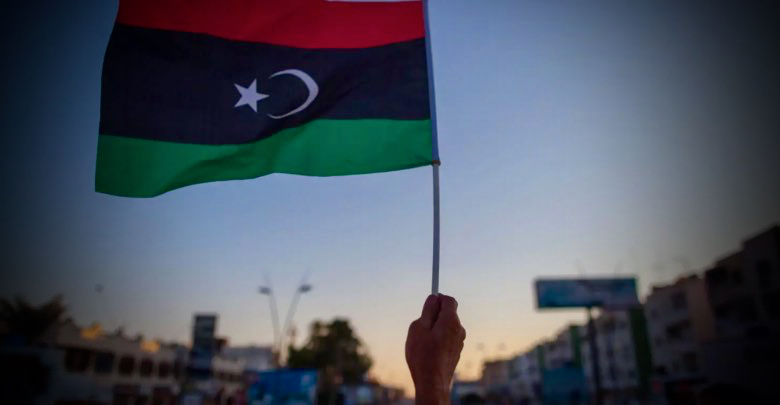 Report from Cairo Institute for Human Rights Studies the Libya Platform and Aman Organization Against Discrimination: Libya's Universal Periodic Review Human Rights Situation in Libya
General context
Grave violations of fundamental liberties – such as the rights to life, freedom, and bodily integrity – are examined in this joint resport, and restrictions on freedom of expression;  recurrent attacks on judicial authorities; journalists, and civilians, and medical and civilian infrastructure, and the status of vulnerable and marginalized groups such as displaced persons or migrants beside forms of violence and discrimination against women.
Since 2015, two competing legislative and executive authorities – the Interim Government in eastern Libya and the Government of National Accord (GNA) in western Libya – have been vying for international legitimacy and recognition. These two authorities rely on militias and paramilitary groups to control government offices, banks, the Libyan Investment Agency, oil fields, export ports, and airports. In order to obtain the backing of these paramilitaries, Libyan authorities issue official decrees delegating sweeping powers to these armed groups to be charge of security and law-enforcement without any accountability. These groups are then incorporated into the security establishment, without training or any uniform national program. The overwhelming majority of forces serving the GNA and the Interim Government consist of  paramilitary groups and militias composed from armed civilians and tribal elements. This mixture includes armed extremist groups tied to al-Qaeda and the Madkhali Salafis.
The authorities task militias with enforcing restrictive laws, such as the Publications Law, the Penal Code, the Terrorism Law, and the Civic Associations Law, as well as implementing regulations and decrees issued after 2015. Since 2015, the Libya Platform has documented numerous violations committed by these militias. 247 journalists and media workers and over 120 human rights defenders according to the Platform have been targeted by militias and paramilitaries. Paramilitaries have also picked out activists at airports and security checkpoints to question them about their activities, reasons for travel, and political affiliations; many such interrogations have ended in arbitrary arrest and violations of bodily integrity.
Militias have targeted the judiciary as well, effectively rendering it unable to hold individuals involved in grave human rights abuses accountable. Seven paramilitary assaults on a number of Public Prosecution offices and Libyan courts have been documented.  In nine cases, judicial personnel were abducted and subjected to inhumane treatment in connection with their work on criminal cases. Three members of the judiciary were killed, and one judge survived an assassination attempt. The Public Prosecution is unable to arrest suspects or provide any guarantees for victims and witnesses, which has made it difficult for the Libyan judiciary to prosecute human rights violations without interference by militias. Militia targeting and control over the judiciary has rendered it largely unable to deliver justice to Libyan victims, while at the same time, allowing for dozens of civilians to be tried in military courts in eastern Libya without due process guarantees.
Displacement and deprivation of basic security, health, and educational services is commonplace for civilians residing in armed conflict zones. Migrants, refugees, and asylum seekers run the risk of falling into the hands of human traffickers or being conscripted to fight or transport weapons around the country, even by sea. They are routinely subjected to torture and ill treatment, beatings, and sexual violence. Moreover, women in detention are subject of sexual extortion, rape and allegations of sexual slavery.
Militias systematically violate the principles of international humanitarian law. Libyan forces do not comply with the Fourth Geneva Conventions, and in the struggle for power, civilians are targeted, along with medical facilities, civilian airports, schools, and oil fields.
Extrajudicial killing: All in Libya are vulnerable to death without due process 
Extrajudicial killing is increasing at an alarming pace, and with total impunity. Militias and paramilitaries routinely deploy extrajudicial killing during arbitrary detention and often after torturing the detainee. In one incident of many, dozens of prisoners were allegedly tortured and shot when forces subordinate to the GNA Presidential Council attacked an airbase in southwest Libya May 2017; the GNA aligned-forces took members of the Libyan National Army as prisoner; torturing dozens of them before shooting and killing them.
Moreover, extrajudicial killing is used as a tactic by both sides of the political divide when it is perceived that a judicial or legal punishment meted out against a prisoner representing political opposition, be it violent or peaceful, is inadequate.  For example, the bodies of 22 prisoners were found in June 2016 in Tripoli after a court ordered them released, they had been documented as having left the Roueimi Prison.
Extrajudicial killing is also frequently used amid the bloody clashes between the official and de facto authorities in east and west, with the bodies of individuals found at sites where a war crime or bombing was perpetrated – indicating the retributive nature of the killing. Examples of such retributive acts abound.  On 9 August 2019, the bodies of five people who had been shot were found in the Hawari area of Benghazi, near the site of an explosion that targeted the city cemetery. The scene recalled the mass killing that followed the bombing of the Bay'a al-Radwan Mosque in Benghazi in January 2018. On 27 October 2018, the bodies of 36 people, all shot in the head, were found in an area Benghazi under control of militias subordinate to the Libyan National Army (LNA) in eastern Libya: this mass killing was an act of revenge by an LNA-aligned militia for terrorist attacks that occurred in the same area days before.
No place in Libya is immune or safe from extrajudicial killing, including civilian infrastructure such as hospitals, schools, and mosques; and the official authorities habitually turn a blind eye, as would be expected in a context where extrajudicial killings are largely perpetrated at the behest of one official authority or the other. For example, a group of fighters in Gharyan, located in western Libya near the capital, were allegedly killed on 29 June at the city hospital; the GNA's Presidential Council has thus far not opened an investigation, even after its forces regained control of the city. In July 2016, three people were found dead in front of the al-Harish Hospital in Derna after being killed by the Council of Mujahideen of Derna and its suburbs. The GNA also failed to investigate this killing; most certainly because the Council is a militia opposed to Haftar and the LNA.
Extrajudicial killing is not only a tactic used on the battlefield, it is used against civilians as well, especially against journalists and other media workers covering atrocities and crimes committed by the combatants. On 19 January 2019, photojournalist Mohammed bin Khalifa was killed while covering armed skirmishes between forces protecting Tripoli and the Seventh Brigade. Journalists, media workers, activists and other civilians are not safe from the growing extrajudicial killing epidemic outside of the battlefield either. On 31 July 2018, the body of  photographer Moussa Abd al-Karim was found in a public place in Sabha having been shot; a killing that occurred about a week after the paper published a long piece on abductions, armed robbery, and growing crime in Sabha. In February 2015, civil society activist Intessar al-Hasiri and her aunt were found dead in a car in Tripoli, killed by an unknown militia.
 No genuine steps have been taken to hold accountable the perpetrators of these and other killings over the last three years. And due to this complete lack of accountability, no place in Libya is immune from extrajudicial killings. And no person is immune from extrajudicial killing: taking up arms or peacefully expressing an unorthodox or dissenting idea are both acts for which Libyans are subject to death without due process.
III. Enforced disappearance and arbitrary detainment: Exercising power through terror rather than rule of law
State-affiliated militias and paramilitary groups have arbitrarily detained thousands of Libyans and non-Libyans, men and women, and held them incommunicado without charge for prolonged periods. The detainees, deprived of their liberty based on their tribal or family links and perceived political affiliations including politicians and journalists, are not brought before prosecutors and are not given access to a lawyer, translator, doctor, or their families. Those detained arbitrarily include individuals held in relation to the 2011-armed conflict, many without charge, trial or sentence for over six years. These arrests and grave violations are perpetrated by state security groups without any oversight from the judiciary. Even when the judiciary orders the release of persons under arbitrary arrests, armed groups don't abide by the order.  The official authorities have failed to take practical steps to end these practices.
Abductees are often targeted for perceived political disloyalty, as was the case with 62-year-old engineer Abd al-Nasser al-Maqtouf,  kidnapped by a militia from Misrata in July 2019 with two of his cousins just east of Tripoli and held in an unknown location by a Deterrence Force, an armed group aligned with the western-based GNA. The three men's militia captors accused them of supporting eastern forces; an accusation not supported by any official or formal charges. They remain detained to this day, with no action taken by the GNA as the legitimate government authority to uphold the rule of law by subjecting the men to due process within Libya's formal judicial system.
Abd al-Nasser al-Maqtouf's case is just one example of many cases of abduction, arbitrary detention, and enforced disappearance, which have increased in frequency alongside the conflict's intensification since April 2019. Journalists, activists, and politicians are ever more vulnerable to enforced disappearance and other abuses on allegations of sympathy to one party or the other, or of being traitors to an "international agenda."
Many of those forcibly disappeared are active in Libya's public life and are targeted for what is standard conduct in a functional democratic state's civic space. Abdelsalam Al Hassi, the head of the Administrative Oversight Agency of Bayda in eastern Libya submitted a report on corrupt practices within the eastern Interim Government. Shortly thereafter on 2 September 2019, he was forcibly disappeared by an armed group without charges, and the Libyan judiciary did not intervene to protect him from retribution for simply carrying out his professional duties.
Similarly, a few months earlier on 18 July, Dr. Seham Sergiwa, an MP for Benghazi, was arrested in a eastern based militia raid on her home; her family was assaulted and she forcibly disappeared to an unknown location. The arrest came after she gave a television interview stating her opinion about Libya's political conflict.
The cases of Abdelsalam Al Hassi and Dr. Seham Sergiwa are representative of how the practices of forced disappearance and arbitrary detainment have served to close Libya's public space, deterring officials from holding the authorities accountable and deterring public dialogue. Inversely with the shrinking of Libya's civic space, the space for extremism and terrorism has expanded.
Activist Abd al-Mutallib al-Sarhani, was abducted in August 2017 in Benghazi alongside dozens of others for their activism against radicalization and the rise of the Salafist Madkhali sect. The kidnappers were a Salafist group aligned with Field Marshal Khalifa Haftar of the Libyan National Army in the east.
In virtually every case of forced disappearance or arbitrary detainment, whether it be for real or perceived treason to peaceful political opposition or standard civic activity, the two primary vying authorities – the Interim Government in the east and the Government of National Accord in the west – have taken no genuine steps to release hundreds of detainees held hostage by armed groups, without any form of due process or judicial oversight. Such inaction by the authorities only breeds further instability, undermining institutional forms of power and justice operating under the rule of law. And when the rule of law is undermined, its antithesis –lawlessness – is bolstered; creating a power vacuum easily exploitable by extremist forces on both sides of the political divide.
Militias and paramilitaries block the path toward national accountability
Militias and paramilitaries aligned to the two main rival authorities in Libya have blocked victims of human rights violations from accessing the national judicial system; through attacks targeting members of the legal community, Public Prosecution offices, courthouses, and the Ministry of Justice.
On 9 August 2019, a militia abducted Waleed el Tarhouni, originally from the east and working at with the Ministry of Justice in Tripoli. A few days later, his body was found in front of the ministry bearing marks of torture and bullet wounds.
The Libya Platform has documented several attacks on courts. On 13 December 2018, a militia stormed a Benghazi court to intimidate judges into releasing detained prisoners. The same month, a state-affiliated militia stormed the Aziziya court, intimidating judicial personnel present in the court building and forcing them to release detained prisoners. On 2 September 2018, the office of the Public Solicitor in Tajoura was destroyed during a battle between two militias. On 4 October 2017, Daesh targeted judiciary members in the Misrata court using explosives and automatic weapons. Four people were killed, and dozens injured.
On 24 July 2016, a militia abducted Mahmoud Abu al-Amd, the chief judge of the Tripoli Preliminary Court; he was released several days later. On 12 December 2016, the Criminal Investigations Forces (subordinate to the Interior Ministry) entered the Tripoli court complex and used their weapons to intimidate judicial personnel, lawyers, and seekers of justice. The force compelled all persons in the court to leave the building, interrupting all proceedings.
On 24 February 2017, Nasser al-Darasi, the judge of the Tobruk Preliminary Court, was arrested by the LNA-affiliated Counterterrorism Directorate. On 26 December 2018, an unknown armed group assaulted the chief judge of the Sabha Court Abu Bakr Bashir and detained him for three hours, torturing and abusing him.
The Libyan judiciary's ability to conduct transparent, effective prosecutions for violations has steadily declined since 2015. Courts around the country considering grave violations of international human rights law and international humanitarian law are unable to begin legal proceedings to prosecute offenders due to direct threats upon judges and lawyers.
Freedom of opinion and expression
Articles 178, 195, 205, 208, 245, 438, and 439 of the Libyan Penal Code of 1953, which is still in effect, provide for sentences up to death for crimes related to expression of opinion, in violation of the constitutional declaration and international conventions signed by Libya that protect freedom of opinion and expression.
The media in Libya is subject to Law 76 of 1972 on Publications or the Publications Law, the only existing law relevant to media regulation. Article 3 defines publications as all writings, illustrations, images, and other printed, drawn, photographed, or recorded materials prepared for circulation. The law sets forth arduous conditions for publications and their owners and chief editors, requiring them to apply to the censorship directorate for permission to operate and giving the directorate the right of prior censorship. Publications may not be printed without prior approval and may not be circulated with without circulation approval.
The Publications Law gives the Media Authority of the Government of National Accord and the Interim Government the absolute right to license both print and electronic media publications, private and public, but the authority has overstepped the conditions in the law without legal basis by requesting even more conditions than are required by the law, putting media actors under the total discretionary of  the Media Authority.
Audiovisual media outlets are licensed by the Public Institution for Radio and Television, subordinate to the cabinet of the Interim Government, or the licensing office of the GNA Media Authority. In both cases, executive bodies act at their own discretion, without statutory basis, when granting licenses for radio and television outlets and websites.
Arrests of journalists and bloggers
Journalists are denied freedom by the continued use of defamation, blasphemy, dissemination of secret news, and other charges in the Penal Code related to freedom of opinion and expression. On 11 October 2018, photojournalist and blogger al-Mukhtar Ali Mubarak al-Halak was detained by the security directorate, 80 km west of Tripoli by an armed group aligned with GNA, after being summoned and charged with defamation and publishing confidential news concerning state security on his Facebook page; he was held for 11 days.
On 22 July 2019 Internal Security in Ajdabiya loyal to the Interim Government arrested journalist and blogger Salehein Mohammed Saleh al-Zarwali. He was transferred to Internal Security in Benghazi before being released on 1 August. This was al-Zarwali's second arrest; the first was on 30 March, also for criticism to the continued armed conflict that he published on social media.
The Benghazi security authorities arrested the cousin of Ahmed Mohammed Muftah Busanina, a photographer who used to work for al-Naba television; the cousin was only released when Busanina turned himself in 24 of July 2019. The reasons for the arrest are unclear—the photographer resigned from al-Naba in 2015—and his fate is unknown until this day. The fate of two other photographers remains unknown as well: Abdullah Budabous, from Benghazi, who has been missing at the Kuwayfiya Prison since April 2017, and Ismail Buzariba al-Zawi, from Ajdabiya, who was arrested on 20 December 2018. Their families have been unable to locate or visit them and have asked the authorities to release them.
The Foreign Media Directorate and harassment of journalists
Many foreign correspondents have encountered substantial difficulties as a result of the Foreign Media Directorate's complicated procedures. Journalists say they must currently receive an official permit from the directorate if they wish to cover any event, whether it be social or cultural, or even a campaign against leukemia. Many journalists complain of harassment by security bodies, such as guards at public hotels, who stop them and demand to see a permit, especially if the journalist is carrying a microphone or camera.
The Public Institution for Radio and Television and restriction of media freedom
Amid the general suppression of media freedom in eastern Libya, the Interim Government's Public Institution for Radio and Television in Bayda issued a decree on 24 February 2018 revoking the operating licenses of Radio Wasat and the Wasat media portal,  and instructing government departments not to deal with the outlets on the grounds that they were receiving foreign funding.
On 7 March 2018, the institution suspended the broadcast of foreign FM radio stations operating in Libya, allowing transmission only by local public and private stations with operating permits. The institution said in a statement that foreign FM stations airing locally are considered to be special programs operating out of other countries with other policies unrelated to the Libyan state and its projects; and accordingly, they infringed upon Libyan unity and were biased toward certain political actors.
The institution issued another decree on 17 July 2019 ending local authorities' dealings with eleven satellite channels accused of operating without a license, supporting extremism and terrorism, or threatening the social fabric in Libya. A grave violation of press freedom, the decree represents a system of ever-worsening repression intended to eliminate media freedom throughout Libya.
Vulnerable groups
Civilians continue to pay the highest price, forced to leave their cities and live in inhumane conditions as the armed conflict between paramilitaries loyal to the Libyan authorities in the east and west continues to rage, and areas of active fighting shift with changing loyalties and alliances of warring parties. Foreigners in Libya, including women and children, face extreme hardship, with internal displacement caused by armed conflict rampant.
According to the  Platform , as of 24 August 2019, thousands  migrants and refugees continued to be arbitrarily detained by government-backed paramilitary groups, including no less than three thousand people held in facilities located in areas of fighting around Tripoli.
IDPs
Children displaced from eastern Libya, particularly Benghazi, is a dire issue that continues to be ignored. Some 200 children in Misrata are still waiting to have their civil registry information forwarded from the Benghazi civil registry, which refuses to take any action, saying that the children's parents must go to Benghazi to resolve their security status.
In the southern district of Murzuq, 5,315 families displaced by clashes in 2019 now reside in various cities in the area. The IDPs and the Tebu minority both continue to suffer from deplorable conditions: schools remain closed, shops are virtually empty, and there is a severe shortage of medicine and fuel. Security checkpoints manned by eastern forces and their local tribal allies are scattered on the road connecting Jufra and Sabha, and target people based on their identity.
While university studies continue for some residents of Kufra, students belonging to the Tebu minority—689 students—have been unable to continue their studies since late 2015 due to the lack of security. In the southwest, 300 Tebu students have been denied the right to continue their education at Sabha University, al-Asmariya University in Sabha, and the High Institute for Comprehensive Professions since 2014, following conflict between the Tebu and the Awlad Suleiman tribe that has left them unable to reach campuses or student university housing.  The university continues to drag its feet in finding alternatives for them.
Libyan authorities have also failed to offer medium- or long-term solutions and services to persons displaced by armed conflicts before 2015. Residents of Tawergha were displaced in August 2011, when over 60 people were killed throughout two days and some 50 people disappeared. Civilians came under indiscriminate gunfire as they fled the fighting and mortar fire for al-Hisha, located 73 km southeast of Tawergha.
Former Tawergha residents of all ages have been subjected to arrest, enforced disappearance, and extrajudicial killing. More than 320 have been killed and another 1,200 imprisoned without trial, while over 220 people have gone missing in mysterious circumstances over the past years, according to Youth for Tawergha.
Tawergha IDPs reside in several camps unfit for habitation, and the camps came under armed assault by GNA-backed militias in May 2017, August 2018, and September 2018. The displaced persons have attempted to pressure the Presidential Council to keep its promise to enable them to return. While the council declared in February 2018 that they could safely return to Tawergha, they came under attack on 1 and 4 February 2018 and 7 February 2019 by militias attempting to prevent their return. Local authorities in Misrata continue to impose a full blockade on the city, enforced by checkpoints manned by personnel affiliated with the Central Military Command and the Misrata Security Directorate, most of whom are current and former militiamen. Only a few Tawerghans have been able to return to the city given the total destruction there and the lack of basic infrastructure and services, such as water wells. The electric company in Misrata is also refusing to provide the equipment necessary to complete the installation of electricity.
Migrants
Migrants, refugees, and asylum seekers are subjected to grave human rights abuses, carried out systematically on a broad scale by officials at detention facilities, the Libyan Coast Guard, smugglers, and militias. Some were detained after the Libyan Coast Guard intercepted them as they attempted to cross the Mediterranean for Europe; part of the arrangements requested by the Italian government and enforced by the GNA using the Libyan Coast Guard, with the support of the EU and some militias. As a result, there has been an increase in the number of people forcibly returned to Libya and arbitrarily detained in facilities run by the Interior Ministry's General Directorate to Combat Illegal Migration.
Nearly 20,000 people are detained in facilities in Libya operated by the illegal migration directorate, part of the GNA Interior Ministry, in conditions of extreme overcrowding and without access to medical care and adequate food. They are also subjected to systematic torture and other forms of ill treatment, including sexual violence, physical assault, and extortion. Whereas the General Directorate to Combat Illegal Migration officially oversees 17–36 detention centers, militias and criminal gangs run thousands of illegal detention sites all over the country for the purposes of human trafficking.
The Interior Ministry of the internationally- recognized GNA based in Tripoli operates a network of more than 20 official detention centers where migrants and refugees are vulnerable to degrading treatment and torture. This is in addition to an unknown number of unofficial facilities around the country run directly by militias. From September 2017 to August 2019, the two governments have issued decrees closing 22 migrant detention centers due to poor conditions; officials at six of these centers have refused to shut them down.
On 2 July, the GNA accused eastern forces of staging two airstrikes on Tajoura, during which a missile hit an uninhabited garage and another hit a detention facility with 120 people inside. According to the Platform, at least 53 refugees and migrants were killed in the attack and another 130 injured; credible reports documented six children among the dead.
Other reports found that after the first air strike, guards shot several refugees and migrants as they attempted to escape. This is not the first time Tajoura was hit, due to its proximity to a military base. Two people were injured in the detention facility on 7 May 2019, during an airstrike on nearby GNA facilities.
Migrants and refugees detained in the Zawiya facility are subjected to systematic torture and other forms of ill treatment with the purpose of extorting money from them. The Platform documented systematic torture taking the form of beatings with various objects (such as water pipes, metal bars, rifle butts and sticks); forcing detainees into uncomfortable positions, such as squatting, for prolonged periods; punching and kicking; and electric shocks. While men appear to be targeted more frequently, including for severe beatings, women and children are not spared. Several accounts also pointed to guards shooting in the air and, at times, at the roof of hangars, terrorizing and endangering detainees.
VII. Militias routinely violate international humanitarian law in total impunity
With total impunity, militias routinely violate the principles of international humanitarian law, while the Libyan authorities' inaction has encouraged the militias to continue committing grave violations. Showing utter disregard for the Fourth Geneva Conventions, they target civilians, medical facilities, civil airports, schools, and oil fields in their struggle for power.
On 16 January 2019, serious violations were committed during renewed fighting in Tripoli between rival militias, with dozens dead and wounded. The incident came a day after Field Marshal Khalifa Haftar, the general commander of the Libyan National Army appointed by the House of Representatives in eastern Libya, announced a military operation in southwest Libya and took cities in the south by force. Attacks on civilians and reprisals were documented during the offensive. Amid the fighting around Tripoli since April, the city of Murzuq, located in southwest Libya, was the target of an airstrike on 5 August that left several civilians dead. The Mitiga Airport was shelled on 4 August, resulting in the temporary closure of the airport.
According to the Platform, "Four doctors and one paramedic were
killed, and eight medical personnel were wounded. Since the beginning of the conflict in April, a total of 37 attacks have been registered on health personnel and facilities, resulting in a total of 11 deaths, 33 injuries and 19 ambulances directly or indirectly impacted.
The World Health Organization noted on 29 June 2019 that airstrikes and gun battles in the Libyan capital had injured 4,407 people, including 137 civilians, and killed 739 people, among them 41 civilians, including an ambulance driver and two doctors. Eight ambulances were also damaged.
According to the Platform , the civilian casualty toll from the fighting is 178, including 41 deaths, and over hundred thousand people have been displaced. Thousands of refugees and migrants, detained in Qasr bin Ghashir, Gharyan, and Ain Zara, are directly endangered by the conflict. So far 44 of them were killed when in July 2019 LNA forces allegedly shelled a migrant detention center on the outskirts of Tajoura, located 11 km from the capital and under the control of the Presidential Council.
The Libya Platform notes that the armed clashes and endangerment of citizens' lives in April 2019 did not occur in isolation.  At the beginning of the year, on 16 January 2019, rival militias committed serious violations during renewed fighting in Tripoli, with dozens dead and wounded. The incident came a day after the general commander of the armed forces appointed by the House of Representatives in eastern Libya announced a military operation in southwest Libya and took cities in the south by force. Attacks on civilians and reprisals were documented during the offensive. An end to military operations in Derna was also announced, following fierce fighting with the Derna Shura Council (the Derna protection force) in the wake a total siege of the city.
The situation in the southwest appears to have become more dire since early 2019 due to the military offensive launched by LNA forces on Murzuq in late February 2019 while tribal elders were in a negotiating session. The assault resulted in the death of 22 Tebu people, most of them civilians, and the injury of more than 35 individuals. The attack also spurred other groups, such as the Residents (African tribal), the Awlad Suleiman tribe, and al-Zawiya to join the eastern forces in the fighting. It is estimated that 94 homes were torched—including that of Adam Mohammed Lino, an MP for Murzuq—and 109 cars were stolen during the attack.  As the first wave of the offensive subsided, attacking forces set up checkpoints to severely restrict freedom of movement and they began to search for social media activists, journalists, and even potential fighters. Thus far, 24 members of the Tebu minority have been disappeared.
In 2019, the Salafi Khaled ibn Walid Brigade, affiliated with the LNA General Command, cut off water and electricity to residents of the Chinese Company neighborhood in Umm al-Aranib, after which they sealed up all entries and exits to the area, thereby forcing residents to evacuate the area. The neighborhood population includes displaced Libyans and foreign refugees, asylum seekers, and migrants.

Recommendations
Repeal the following laws and decrees:
To protect freedom of expression; and repeal Press Law n° 76 issued in 1972 and Penal Code dispositions n°: 178, 205, 208, 245, 438, 439
To protect freedom of association; and repeal Law n°19 regulating CSOs issued in 2001 and all its executive decrees
To protect freedom of expression and the right to a fair trial; and repeal Counter-terrorism Law n°3 issued in 2014
To protect freedom of peaceful assembly; and repeal Law n°65 regulating the right of peaceful assembly issued in 2012
To guarantee fair trial; and repeal  Disposition n° 177 of the Penal Procedure Code, allowing prolonged pre-trial detention
To guarantee fair trial; and repeal   Law n°4 of amending military procedure issued in 2017
To guarantee free trial and protect persons from arbitrary arrest and torture, to protect freedom of expression; and repeal  Decree 555 issued in 2018, by the Presidential Council. It gives armed groups the authority to conduct  counterterrorism and surveillance.
End arbitrary and secret detention
Survey and classify all detention centres, and determine their subordination (interior ministry/military – outside the control and supervision of the judiciary)
Map and categorize all detainees (women/men – civilian – military – adult/minor – pre-trial detention – execution of a judicial penalty – detention without legal basis)
Establish a mechanism for detainees: classifying, monitoring their conditions, and ensuring access to them, and enabling them to be received and rehabilitated
Establish a mechanism for detention centres: classifying, ensuring access to, monitoring conditions, and training staff
Enable civil society organizations to visit detention sites periodically, without restrictions.
Protection of Refugees, migrants and asylum seekers
Take action to release all those detained for attempting to cross into Europe as refugees and asylum-seekers and to respect international obligations in this regard
Regulate the legal framework for the application of asylum through a transparent mechanism in line with Libya's constitutional, regional and international obligations
Strengthen legal protection for migrants who are victims of human rights violations both inside and outside detention centres
   Develop a legislative framework guaranteeing the legal status of those wishing to regulate their situation within the Libyan territory in order to work, according to the needs of the labour market.
Stop all administrative restrictions on Freedom of Expression, Association, Peaceful Assembly
Restructuring Security Institutions (Reform of the Security Sector and its Governance)
Draft bill on the structure of the ministries of interior and defence, in order to set up a plan for security sector reform, in the form of a general and abstract roadmap, to:
  Determine the mandate of the ministries of interior and defence;
Define the different sections and chain of commands in each of them
Determine the mechanism of engagement, timeframe, and training content rules;
Develop the internal complaints system (to include a mechanism for citizens' complaints against members of the two ministries as well as a mechanism for complaints of members of the security sector against their superiors);
Draft the framework for trade unions within the security sectors.
Propose a draft bill establishing a plan for individual reintegration, disbandment, disarmament and rehabilitation of members of existing militias and armed groups, in the framework of legislations regulating transitional justice and reconciliation.
https://defendercenter.org/wp-content/uploads/2019/08/لجنة-تحقيق-دولية-بشأن-ليبيا.jpeg
405
780
Defender Center
https://defendercenter.org/wp-content/uploads/2018/06/cropped-cropped-cropped-logofn-1.png
Defender Center
2020-04-02 14:23:29
2022-03-25 22:35:44
Report : Libya's Universal Periodic Review Human Rights Situation in Libya