Research paper : Freedom of the Press in Libya: A Long Way to Go

19/06/2023 
An assessment of the state of freedom of the press in Libya, in law and in practice, including perspectives from civil society and media practitioners.
By Nadège Lahmar : Human rights researcher and consultant focusing on North Africa. She previously worked as Maghreb Researcher for the Cairo Institute for Human Rights Studies (CIHRS). She holds an MA in International Development from the Paris School of International Affairs (PSIA, Sciences Po) and a BA in Political Science from the Institute of Political Studies of Paris (Sciences Po).
Introduction and Executive Summary – 
Download and read the research paper  Freedom of the Press in Libya: A Long Way to Go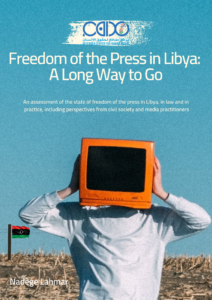 Libya is ranked 143rd out of 180 in Reporters without Borders (RSF)'s freedom of the press index and its civic space is considered "Closed" according to the CIVICUS Monitor. 
Online activism in 2011 was instrumental to allow individuals in Libya to participate in public and political life. However, these opportunities have been heavily curtailed by the continuation and aggravation of violent repression against free speech, committed by state authorities and armed non-state actors. Libyan media can be characterised by a lack of independence and plurality. Media outlets have become hostage to the political conflict, affiliated to armed groups or political groups, and used as a tool to incite against opponents and spread hate speech and disinformation. Political polarisation has also been amplified by foreign-sponsored disinformation campaigns. One of the journalist interviewed for this report explained : « It is very hard to work independently, often media outlets have to work with political or security groups ». In this context, the Libyan constitutional, legislative and regulatory framework fails to protect the rights of media workers and outlets in various ways. 
The 2011 Constitutional Declaration does not provide sufficient protection for freedom of expression and the press based on international human rights law. 
At the legislative level, the Penal Code retains overly broad and vague articles that place severe restrictions on freedom of expression, often sanctioned with extremely severe penalties like the death penalty. Gaddafi-era legislation, such as the Promotion of Freedom Act and the Publication Act, provides an interpretation of fundamental rights and freedoms that completely runs counter to Libya's international obligations, and organises the direct or indirect control of media by the State. 
In 2012, Libyan authorities reinforced this problematic framework with Law 15 on prohibiting media discussions of religious opinions, which constitutes an illegitimate restriction of freedom of expression. In 2014, the Law on Combating Terrorism allowed the criminalisation of the legitimate exercise of freedom of expression under an overbroad definition of terrorism. Since 2017, under Law 4 on amending Provisions of the Military Penal Code and Military Code of Criminal Procedure, journalists tried for "terrorism" crimes are now tried under military court jurisdiction. Most recently, the Cybercrime Law, structured a system of digital censorship, while Electoral Law 1 and 2, adopted with the required legal quorum, do not guarantee all candidates equal access to media.
Libyan and foreign media professionals continuously report various obstructions as well as grave human rights violations at the hands of authorities or armed groups. Between 2020 and 2022, the Libyan Crimes Watch (LCW) was able to document ten kidnappings or arbitrary detentions of journalists, two enforced disappearances, fifteen cases of online or physical violence, or threats, and five arbitrary prosecutions, including one under military court. In parallel, Libyan women journalists are subjected to multitude forms of gender-based violence and are restricted by harmful gender stereotypes and security conditions. 
Furthermore, Libyan legislation does not address hate speech as such, and the newly-created General Authority for Monitoring Media Content (GAMMC) suffers from a lack of independence and clearly-defined monitoring standards in line with international law. 
Interviews with 23 Libyan and foreign journalists and media activists highlighted 7 key points. All interviewees shared a bleak assessment of the situation, and highlighted the need to address connected issues such as the pervasive impunity and attacks on civic space. All Libyan journalists supported the assessment that a legal framework for the media was critically needed. 
Overall, the lack of a clear legal framework with regards to media has resulted in a multiplicity of executive decisions and decrees, which often lack coherence and clarity, and are not aligned with international human rights law. The legal vacuum for media regulation, combined with pervasive impunity, political polarisation and foreign disinformation has contributed to weakening freedom of the press and media literacy, and to promoting partisanship and media capture. 
In this context, Libyan civil society, led by the Libyan Organization for Independent Media (LOFIM) has been mobilising to prepare and advocate for a media law in compliance with international standards. While its adoption is challenging, the draft provides a very valuable contribution and a basis for further reflection and advocacy. 
Download and read the research paper  Freedom of the Press in Libya: A Long Way to Go 
https://defendercenter.org/wp-content/uploads/2023/06/Cover-AR-final-1.png
2000
1414
Defender Center
https://defendercenter.org/wp-content/uploads/2018/06/cropped-cropped-cropped-logofn-1.png
Defender Center
2023-06-19 22:50:41
2023-06-19 23:00:39
Research paper : Freedom of the Press in Libya: A Long Way to Go