The UN Independent Fact-Finding Mission on Libya – FFM Challenges, achievements and the way forward


The UN Independent Fact-Finding Mission on Libya (FFM) was established by the Human Rights Council on 22 June 2020 to respond to the grave human rights situation in the country. The overthrow of Muammar Gadhafi in 2011 did not halt the systematic violation of human rights that had characterized his regime. Serious violations and abuses of human rights, in fact, have since continued unabated, in a context of repeated resurgence of hostilities, the proliferation of armed militias throughout Libya, and a political and institutional division between the West and East of the country.
On the tenth anniversary of the 2011 Revolution in Libya, the Defender Center for Human Rights (DCHR) and the International Commission of Jurists denounced that:
… the pursuit of justice and accountability remains unfulfilled, and the cycle of impunity unbroken, as a multitude of State actors and armed groups continue to perpetrate crimes under international law, including against thousands of migrants, refugees, asylum seekers and stateless persons.
To date, impunity remains the rule in Libya, also due to the judiciary's inability to effectively investigate and prosecute serious human rights violations. It is this state of affairs that prompted the creation of the FFM, as part of the efforts, spearheaded by Libyan and international civil society, to resort to international mechanisms in order to obtain justice and accountability.
The present paper offers an appraisal of the FFM's work after the conclusion of its mandate in March 2023. Section 3 traces the civil society's advocacy efforts for the establishment of the FFM and the renewal of its mandate in the face of fading State support over time. Section 4 analyzes the content and scope of the mandate, particularly in light of the FFM's own interpretation. Sections 5 and 6 focus on the challenges and obstacles the FFM has faced throughout its mandate and the main findings of its investigations, respectively. Section 7 elaborates on possible follow-up international mechanisms for the investigation of international crimes in Libya and the prosecution of alleged perpetrators. Section 8 offers some recommendations to the Libyan authorities and the international community.
The UN Independent Fact-Finding Mission on Libya – FFM Challenges, achievements and the way forward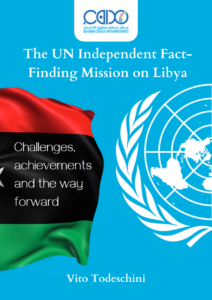 https://defendercenter.org/wp-content/uploads/2023/06/Brown-Vintage-Blank-Paper-A4-Document.png
2000
1414
Defender Center
https://defendercenter.org/wp-content/uploads/2018/06/cropped-cropped-cropped-logofn-1.png
Defender Center
2023-06-08 23:58:15
2023-06-09 09:51:17
The UN Independent Fact-Finding Mission on Libya – FFM Challenges, achievements and the way forward