8th anniversary of the assassination of Two Libyan human rights defenders HRDs, bin Saud and Al-Kawafi: Absence of Justice and impunity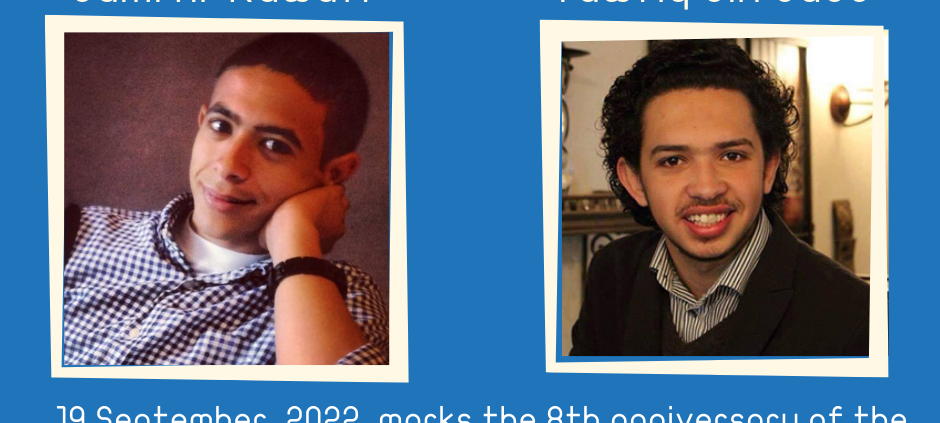 19 September, 2022, marks the 8th anniversary of the assassination of Libyan human rights activists Tawfiq bin Saud, 18, and Sami Al-Kawafi, 17, who were shot by gunmen on the night of19 September 2014, in Benghazi.
While Tawfiq bin Saud was driving his car late in the evening of19 September 2014, accompanied by Sami Al-Kawafi with a third person in the city of Benghazi, eastern Libya, three cars approached them and surrounded them from all directions beside the Kish Mosque in the city center, and they  were surprised that their car was targeted by bullets by unknown armed men. ; Tawfiq bin Saud and Sami Al-Kawafi were killed, while the third person sitting in the back chair escaped.Tawfiq bin Saud and Sami Al-Kawafi were known for their human rights activities and their work as bloggers on human rights issues, they focused their work to launch campaigns for peace and democracy in Libya. They also openly rejected assassinations, killings, kidnappings, enforced disappearances, and the targeting civilians in all Libyan cities.
Days before the tragic event, the two young men were in a meeting to discuss managing the crisis in Libya and to clarify the importance of the role of Libyan youth in the democratic transition process. Tawfiq bin Masoud also spoke to the media about the "military approach", saying that it does not constitute a solution to the crisis, "and there must be a civil movement parallel to that move."
The Defender Center for Human Rights (DCHR) believes that justice is still far from this file after 6 years of this assassination, despite the continuous calls for investigations and the perpetrators to be held accountable. The (DCHR) affirms that impunity is still an embedded characteristic of the Libyan human rights file. The (DCHR) calls for the necessity to reveal the truth, provide justice to the victims and their families, and put an end to the chain of impunity, extrajudicial killings and enforced disappearances.
It is worth noting that this tragic incident came in the context of a series of systematic assassinations that targeted many Libyan activists and human rights defenders after the Libyan revolution and the deterioration of the human rights situation  particularly after 2014 war, in striving to silence human  rights voices in several Libyan cities such as Benghazi, Sebha, Derna and Tripoli.
https://defendercenter.org/wp-content/uploads/2022/09/18-يوما-من-الإضراب-عن-الطعام-1.png
788
940
Defender Center
https://defendercenter.org/wp-content/uploads/2018/06/cropped-cropped-cropped-logofn-1.png
Defender Center
2022-09-19 13:18:00
2022-09-19 13:35:51
8th anniversary of the assassination of Two Libyan human rights defenders HRDs, bin Saud and Al-Kawafi: Absence of Justice and impunity