The influence of the prevailing value system on laws with a legal philosophy, "A draft law to protect women from violence" as a model
This paper seeks to analyse the general contexts surrounding the file of combatin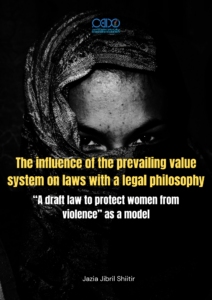 g violence against women in Libya, whether it is the legislative context and the extent of legal protection for women against violence or the political context represented in the legislative division and the faltering democratic transition, or the social context, whether it is the religious beliefs or societal traditions, and the security context where violence increases in light of the weakness of law enforcement authority
The paper also reviews the civil efforts made by Libyan women during the transitional period to prepare a draft law to combat violence against women, whether by defining the time and personal scope of these efforts or in terms of the measures taken to prepare it.
The paper evaluates the draft law on combating violence against women in the light of international standards, and monitors official and unofficial responses to the project.
The paper concludes with a forward-looking vision for the future of issuing the project and the future of applying the law, and the researcher's proposals to the Libyan governmental and non-governmental authorities to speed up the issuance of the project and to achieve an optimal application of the law once it is issued.